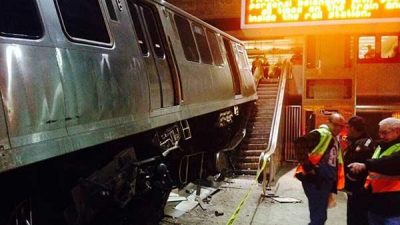 The Chicago Tribune reports that around 2:50 a.m., an O'Hare bound CTA Blue Line train jumped the platform and was traveling at such speed as to force its way onto the escalators at the end of the track.  Though the cause of the crash has not yet been determined, it is already known that the train was traveling at a high rate of speed upon approaching the station.  More than thirty people are reported injured.  Doctor Douglas Propp, of Lutheran General Hospital Emergency Department, observed that many of the injured parties appeared to also suffer emotional distress.
In September of last year, the CTA Blue Line train was the subject of another collision that caused injuries, when it was determined that no one was at the train's controls.  On behalf of his client who was injured in September's CTA Blue Line Crash, Robert Smoler was quoted in the Chicago Tribune, stating, "This accident calls out to the citizens of Chicago and the visitors to our city who rely upon the CTA to provide a safe transit to their destinations."
Once again, the safety of CTA Blue Line transit has been called into question.
Disclaimer – Blog Not Legal Advice – No Attorney-Client Relationship Formed by These Posts or By Any Comments, or By Comments Replying to Comments, on This Blog.
The information and materials on this blog are provided for general informational purposes only and are not intended to be legal advice. The law changes frequently and varies from jurisdiction to jurisdiction. Being general in nature, the information and materials provided may not apply to any specific factual and/or legal set of circumstances.