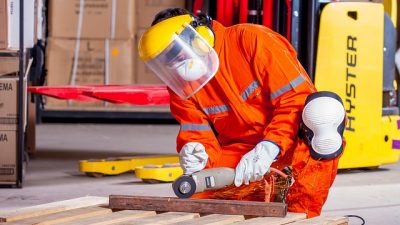 The Occupational Safety and Health Administration (OSHA) has developed specific regulations and policies for equipment, machinery, and mechanical power transmission devices that are often used in maintenance operations, repair shops, and machine shops. There are several requirements for guarding, physical safety, and electrical safety for many types of machines to maximize employee safety.
Failure to meet any of these requirements violates OSHA regulations and can result in serious injury to employees or even death in some cases, making it necessary for businesses to adhere to OSHA's standards.
Pre-Operational Procedures for Workplace Machinery
OSHA has several pre-operational procedures that employees and supervisors need to follow prior to using workplace machinery. Employees must have access to and use industry-standard personal protective equipment beforehand, ensure that work areas are well-lit, clean, and dry, and must wear clothing that is suitable for the work environment. In many cases, machinery can produce industrial dust that presents a fire hazard, which can warrant the installation of dust collection equipment to filter it out.
To further protect equipment and employees, there are also checks that must be made on machinery, equipment, and guards. If a lock or tag is currently in place on a piece of equipment, it shouldn't be removed and the machinery shouldn't be used. Only qualified professionals are allowed to install or perform repairs on equipment, and employees should notify supervisors if repairs are required. Machines that are floor- or bench-mounted also require sufficient anchoring or clamping to a secure foundation to resist movement.
Guards are needed for many applications as well. These guards must be secure and made of durable materials, prevent contact between dangerous moving parts of the machinery and any part of an employee's body or clothing, protect from falling objects, present no new hazards, and must not be damaged or defective before using machinery.
Operating Procedures for Equipment
When operating machinery, there are specific steps that supervisors and employees need to take. These include wearing personal protective equipment throughout the use of the machinery, using the appropriate machine to complete a job, avoiding using machinery when distracted, and reporting damages or malfunctions to supervisors.
If any of these procedures are ignored or performed improperly, employees can suffer from avoidable injuries in many environments. If you or a loved one has been injured as a result of failure to adhere to OSHA guidelines, a workers' compensation attorney may be able to help you receive compensation.