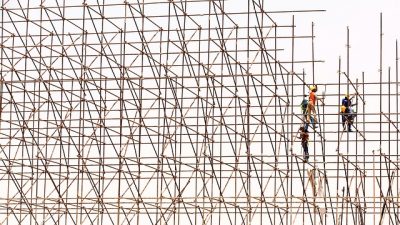 There may be several causes of Illinois scaffolding accidents at work leading to the potential liability of several parties. In addition to seeking workers' compensation benefits from the injured worker's employer, injured workers may also separately sue third parties who might also be liable, including negligent manufacturers, negligent installers and third-party property owners in some cases. A workers' compensation attorney may identify all of the potentially liable parties in a client's case and help with both the workers' compensation claim as well as any separately filed personal injury lawsuits against the other parties.
Scaffolding Accident Causes
The Occupational Safety and Health Administration reports that an estimated 2.3 million workers in the construction industry work on or near scaffolds. In a Bureau of Labor Statistics study, 72 percent of workers who were injured in scaffolding accidents reported that the planking or supports gave way, they were struck by falling objects or they fell.
Workers' Compensation For Scaffolding Accidents
Regardless of who was at fault in causing a scaffolding accident, workers who are injured in them and the families of workers who are killed in scaffolding accidents may recover benefits through workers' compensation insurance. These claims are filed with the worker's employer. Injured workers may receive benefits to pay for all of their medical costs, rehabilitation expenses, prescriptions and others. If they are left either permanently or temporarily unable to work, they may also recover benefits to replace a percentage of their incomes. Families of workers who are killed may recover benefits to pay for their loved ones' reasonable funeral and burial costs as well as monthly benefits to replace portions of their loved ones' incomes. A workers' compensation attorney may work to recover the benefits that their clients should receive for their scaffolding accidents.
Third Party Liability For Scaffolding Accidents
Some workers who are injured may also be able to file third-party lawsuits. Construction sites may have subcontracting companies who install scaffolding. If they do so negligently, leading to the scaffolding accident, the injured workers may file lawsuits against them. Injured workers may also file lawsuits against companies that negligently manufacture scaffolding. A third-party property owner may be liable if the accident was caused by a hazard on the property that the owner knew or should have known about. A workers' compensation attorney may analyze the case to determine whether other parties may be liable in addition to the workers' compensation so that their clients can be made whole.