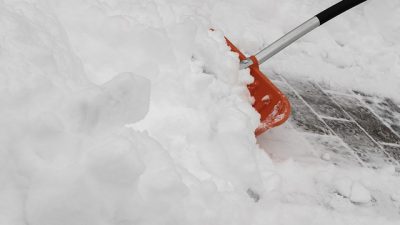 Business owners are responsible for maintaining the safety of the sidewalks that abut their business and may be liable for injuries resulting from a slippery sidewalk. Chicago requires property owners to shovel snow and remove ice on sidewalks that abut their properties.
Snow Removal Laws in Chicago
Pursuant to Municipal Code of Chicago, property owners and occupants are required to shovel the snow and remove the ice in front of their buildings. The law requires anyone who owns or occupies a building that abuts a public way (i.e. sidewalk) to remove snow and ice. The law requires occupants to clear a five-foot path to allow individuals in wheelchairs and parents with strollers to pass.
If it isn't feasible to remove the ice or snow, then the owner must lay down sawdust, ash or other similar material to make the way passable. If snow falls before 4:00 p.m., it must be cleared within three hours. If snow falls under 4:00 p.m., it must be cleared by 10:00 a.m. the following day. If snow falls on Sunday, it may be cleared the following day.
Responsibility and Liability to Shovel Snow
The law is divided into two categories: rules for homeowners and tenants and those for business owners. Homeowners are required to shovel the snow in front of their home. Similarly, tenants are required to shovel the snow if it says so in their lease, however, if the lease is silent then the owner of the property must solve the snow. Homeowners are liable if the slip and fall is due to "willful and wanton" action in removing the snow. For example, if an occupant removes the snow and piles it in a dangerous way that is likely to call or recover the sidewalk, he or she is liable for injuries.
Business owners, like homeowners and tenants, are required to shovel the snow in front of their buildings. If a person slips while on the sidewalk in front of residential property, the homeowners and tenants may not be liable for that person's injuries. Conversely, business owners are liable for the injuries that occur in front of their business. Furthermore, if a business leases the office space, they are liable only if the lease says they are responsible for clearing the sidewalks.