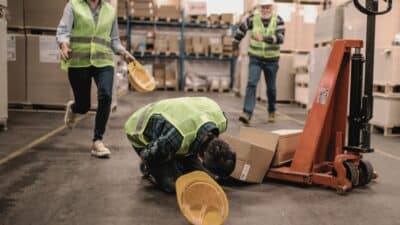 Hiring a Worker's comp attorney can help you get the best possible outcome and ensure you follow all guidelines and regulations when filing your case. If your workers' compensation claim is delayed or denied, an attorney can help get your case back on track.
What Is Worker's Compensation?
Workers' compensation insurance provides the benefits you can receive if you sustain an injury while working.  The benefits available under workers' comp include coverage for medical expenses, replacement of lost wages during recovery, compensation for future lost earning capacity, job rehabilitation, and different types of disability benefits, depending on the severity of your injury. 
It is important to report your injury to your employer to initiate the documentation process. Next, you should seek medical attention as soon as possible. This allows you to have a medical provider documenting your injury and recovery. Once you have received initial treatment, you will need to file a workers' compensation claim. A caseworker will be assigned to your claim, and you will work with him or her to facilitate your claim. For complicated cases involving life-altering injuries, disabilities, or cumulative injuries, a workers' comp attorney may be necessary to assist with recovering sufficient benefits.
Disability and Worker's Compensation
There are several types of disability benefits that can be recovered after a disabling workplace injury. The first is a temporary total disability, which applies when you are injured and unable to return to work for three or more days. The second one is temporary partial disability benefits, which apply when you are left at partial working capacity for a short amount of time. The third benefit is a permanent partial disability. This references an injury that reduces your work capacity permanently. The fourth benefit, permanent total disability, applies when you are permanently unable to work due to your injury.
Why Hire a Worker's Compensation Lawyer?
After a workplace injury, it is essential to hire a lawyer to ensure that all workers' comp benefits available to you are awarded. An attorney can help you get your medical bills paid after a workplace accident. He or she will also ensure that any lost wages you incur during recovery are compensated for. A lawyer can make sure paperwork is complete and accurate, ensure deadlines for reporting and filing are met, and help you avoid issues faced by workers' compensation patients.