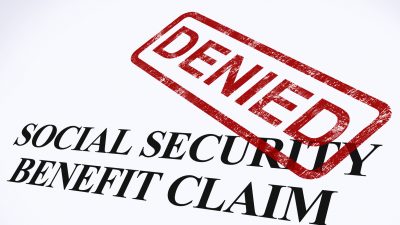 The Social Security Administration (SSD) routinely denies disability insurance claims, which, while discouraging, is not the end of the claim process. If a claim is denied, the applicant has 60 days to file an appeal. The applicant must file his or her appeal within the 60-day time limit, or he or she will have to file a new application for coverage. If the applicant files a new application, he or she may not receive payments to cover ongoing medical and daily living expenses.
The Denial Letter
Per social security disability rules and regulations, the Social Security Administration must mail every applicant a letter explaining why his or her claim is denied and advising on how he or she may appeal the decision. Toward the end of the letter, the SSA will explain the procedures to file an appeal. The typical appeal timeline is 60 days, but the applicant should carefully read the letter to confirm that he or she isn't subject to a different appeal timeline.
The appeal deadline starts ticking from the letter's send date rather than the date the applicant receives the notice. For example, if the applicant receives the letter on January 10 but the letter is dated January 1, the applicant has 51 days to file his or her appeal.
Waiting Too Long
The SSA must have the applicant's latest medical information to determine eligibility. If the applicant waits until the last possible minute to appeal the denial, the medical information may be outdated, and the SSA may deny the claim on appeal. Thus, the applicant must file his or her appeal as soon as possible to ensure that the medical information available to the SSA is up to date.
Hearings During COVID-19
Early last year, the SSA closed hearing offices to the public to protect the public and SSA employees from possible infection. However, appeals are ongoing. The applicant can request a telephonic hearing by filing an SSA-501. The SSA will send the applicant a package providing information about the procedures. In short, the clerk will call the applicant shortly before the hearing is to commence to prepare him or her. The judge will swear everyone in, and the hearing proceeds over the phone. The SSA is also planning to offer online video hearings via Microsoft Teams.