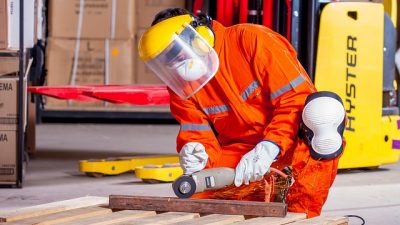 According to a recent report by the AFL-CIO, over 100,000 workers are killed or disabled while on the job every year. The report argues that the United States can and must do more to improve workplace safety.
The AFL-CIO is one of the oldest and largest unions in the country. It represents millions of workers across dozens of industries and is a leader for workers' rights and safety protections. The 2021 edition of Death on the Job: The Toll of Neglect notes that since the passage of the Occupational Safety and Health Act, approximately 627,000 workers' lives have been saved since the 1970s. However, the report notes that approximately 5,000 workers are killed or disabled due to a traumatic injury at work. A further 95,000 suffer the same issues from an illness incurred while working.
The Report by the Numbers
In 2019, 275 workers died every day from dangerous workplace issues. The workplace fatality rate was 3.5 per 100,000, which shows no improvement from the prior year. Employers reported approximately 3.5 million workplace injuries in 2019. However, investigations indicate that employers chronically under-report injuries and estimate that the real workplace injury numbers are between 7 and 10.5 million per year.
The most dangerous industries remain:
Agriculture, fishing, hunting, and forestry at 23.1 fatalities per 100,000 workers.
Oil and gas extraction, quarrying, and mining at 14.6 fatalities.
Transportation and warehousing at 13.9.
Construction at 9.7.
Wholesale trade at 4.9.
Trump Administration Safety Record
Under the Trump Administration, the government delayed, repealed, or underfunded numerous worker safety protections and programs. Commencing in 2019, the Mine Safety and Health Administration (MSHA) and the Occupational Health and Safety Administration (OSHA) were forced to cut back on inspections. Further, safety inspections were largely suspended during the pandemic. According to the report, under the Trump Administration, safety inspections and penalties dropped to their lowest levels since the 1970s.
In the proposed budget of the Trump Administration, the government proposed ending safety and training programs, coal mine enforcement, the Chemical Safety Board, and reduced budget job safety research budget for the National Institute for Occupational Safety and Health (NIOSH) by 40%. Congress rejected these proposed cuts, but it still only allocated approximately $3.97 to protect each worker.
Many of these problems were stopped by the Democratic-controlled Congress and have since been reversed by President Biden. However, safety inspectors, reports, and penalties remain at all-time lows, reflecting the Trump legacy.