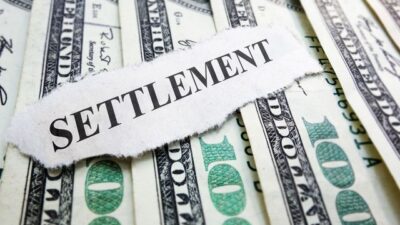 Workers' compensation settlement agreements are comprehensive agreements that seek to settle all or most aspects of a workers' compensation claim, including payment of medical bills, lost wages, legal fees, vocational training, and other related issues. These agreements will govern how the company and the worker move forward, including whether they will be offered their previous job back or if a new position will be made available. In exchange, the worker usually agrees to waive claims against the company.
Structure of the Settlement Agreement
The settlement agreement will describe how the claimant will be paid: lump sum or installments. Most payments are a lump sum to avoid potential future problems – such as missed payments. For example, if the insurer and the claimant agree to installments, the parties must determine (a) payment frequency, (b) payment amounts, (c) payment method, and (d) duration. The agreement should also include a dispute resolution mechanism if a dispute arises as to the payments.
The agreement will also address current and future medical bills. The deal will need to account for future medical costs, as the claimant will be responsible for most medical bills after the settlement is finalized. However, insurers will agree to cover specific medical bills going forward in exchange for a reduced settlement amount in certain situations.
The agreement should also address how the claimant's legal fees are satisfied. Most workers' compensation attorneys work on contingency fee agreements, meaning that they are paid out of the proceeds from the settlement or judgment. The agreement may require the insurer to pay the claimant's attorney directly or stipulate that the claimant pays out attorneys' fees.
Most settlement agreements will require the claimant to release all claims against the employer and insurer. Generally, this means that the settlement agreement will close the entire matter, and the claimant is not permitted to pursue future claims against the employer. For example, if the claimant needs to undergo multiple surgeries to recover from the workplace accident, and therefore the claimant needs additional time-off from their job – any claim related to that request for time-off would be foreclosed unless addressed in the settlement agreement.
Voluntary Resignation
Employers cannot terminate employees for filing a workers' compensation claim. However, as part of the settlement, the employer can ask the worker to voluntarily resign their position. Whether an employee should accept voluntary resignation depends on the circumstances of their case.