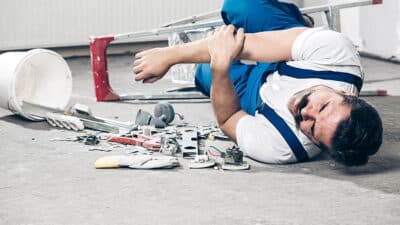 If you are hurt at your construction job and need help getting workers' compensation benefits, what questions should you ask a construction accident lawyer? You must ask questions about relevant experience, success rate, available resources, and fee structure to find a lawyer who is a perfect fit for you and your construction accident case. Most construction accident lawyers offer free initial consultations. You can use this offer to gather more information about your legal options and interview lawyers on your list.
You are more likely to need a construction accident lawyer if you work in the construction industry than in other industries. Why? The construction industry accounts for almost half of the deadliest jobs in the U.S. Construction accident cases usually involve multiple potentially liable parties, including employers, suppliers, manufacturers, contractors, subcontractors, and other workers. Knowing who to hold responsible for your injuries or damages requires knowledge of relevant laws and sufficient evidence.
When to Hire a Construction Accident Lawyer
Ideally, you should hire a construction accident lawyer right after getting injured in a construction accident. That might be hard if treatment for your injuries involves a hospital stay or several days of follow-up treatment. You should, however, try to get legal support as early in the process as possible. Doing that will improve your odds of recovering compensation for the losses and damages arising from your injuries.
You will know the immediate steps to safeguard your ability to claim damages if you involve a lawyer shortly after the accident. Your lawyer will help you avoid common mistakes made by construction accident victims. Your lawyer will also review the initial settlement offer letter from an insurance company or employer to determine if it fully covers all your injuries and losses.
Questions to Ask Your Construction Accident Lawyer
How Many Years Have You Been Practicing in the Construction Industry?
You are not just looking for someone who has been practicing law for decades. Instead, you are looking for a lawyer who has dedicated his or her practice to the construction industry. A lawyer who handles construction accident cases will know how to work through the local and state laws relevant to your case.
The lawyer will be familiar with all kinds of accidents that occur in and around construction sites. He or she will know how to collect the required evidence to identify the liable party (or parties) and obtain reasonable compensation for you.
How Frequently Do You Take Cases to Court?
Personal injury cases usually resolve long before a lawsuit is initiated or before trial. Some cases, however, go all the way to full trial. Find out the number of construction accident cases your would-be lawyer has successfully won in court.
The insurance company will pay maximum attention to your case if you work with a lawyer with demonstrated trial experience. The company is also likely to give you a higher settlement. Conversely, the insurance company will lowball you if it discovers your lawyer is reluctant to move to court.
Accomplished lawyers often have portfolios that show their track record. You can verify this information by talking to referrals provided by your prospective lawyer. You can also get this information by contacting relevant court offices or checking their websites.
Do You Have Enough Financial Resources and Support Staff to Work on My Case?
Lawsuits are usually lengthy and costly. Costs can rise quite fast if your case involves severe injuries. Your case might need multiple expert witnesses. It might also need several depositions to collect enough information about the accident.
You need a lawyer with strong financial muscle and manpower to see your case through every step. The lawyer should be ready to proceed to trial if settlement negotiations fail. A lawyer with limited resources might not get you a favorable outcome. The lawyer may accept a low settlement to avoid a lawsuit.
How Much Will You Charge Me?
Most construction accident lawyers use a contingency fee structure. This fee structure means you don't have to pay the lawyer if you lose the case. Rather, the lawyer takes a certain percentage of your compensation only if you settle or win the case in court. The percentage generally ranges from 33% to 40% and might increase based on the stage at which the case resolves.
Review fee structures of lawyers in your shortlist to identify one with an arrangement that suits your financial situation. A good fee structure provides an approximation of all potential fees and expenses.
Note that fees and expenses are not synonymous. Fees refer to the money paid to the lawyer for the legal services. Expenses refer to costs your lawyer incurs to prepare and prosecute your case. Common expenses include filing fees, witness subpoena fees, court reporter fees, courier costs, and more.
Are there Other Avenues of Compensation in My Case?
The vast majority of injured construction workers focus on workers' compensation alone. These benefits only address their medical expenses and wage losses. These workers need to explore other avenues of pursuing compensation to cover the full extent of their losses.
Workers injured in road construction accidents, for instance, may bring third-party claims against negligent drivers, property owners, and government institutions. For these reasons, you should ask the lawyer about your other options for recovering compensation.
How Will You Handle My Case?
Different lawyers use different approaches to prepare and prosecute their cases. Ask your prospective lawyer about the steps he or she will take to get you reasonable compensation. You can then assess whether those steps work for you.
If you are interviewing a lawyer from a large firm, ask that lawyer whether he or she will be the one working on your case. If not, find out who will and schedule a consultation with that person. The objective is to ensure your case is assigned to someone competent.
How Much Is My Case Worth?
A knowledgeable construction lawyer can give you an accurate estimate of the compensation you might receive. Of course, the lawyer will need to review unique details and evidence available in your case. Such a lawyer will know how to differentiate a reasonable settlement from an unreasonable one during settlement talks with insurance companies.
A Chicago Construction Accident Lawyer Can Help You Recover
You might qualify for workers' compensation benefits as a construction worker in Chicago, Illinois. An accomplished construction accident workers' compensation attorney can help preserve your eligibility for these benefits by advising you on the mistakes to avoid. The lawyer will, for instance, ensure you have satisfied the reporting and filing deadline. He or she will also ensure you are receiving treatment from an authorized physician.
Your lawyer will explain what expenses workers' compensation pays. The lawyer will ensure you are collecting maximum compensation for your medical care and lost wages. He or she will offer legal support for the entire life of your claim. Doing this will prevent your employer or workers' comp insurer from stopping your benefits early. 
A Chicago construction accident lawyer familiar with Illinois workers' comp laws and personal injury laws can investigate your construction accident to see if you have other claims beyond workers' compensation. As mentioned earlier, you may have grounds for seeking compensation from liable third parties in your accident.
Your lawyer can maximize your recoverable damages by competently negotiating with a workers' comp insurer and pursuing other third-party claims. The lawyer knows the potential challenges that might arise along the way. As such, the lawyer will anticipate and proactively resolve those challenges to hasten the claims process.
The lawyer can appeal unfavorable decisions regarding your workers' compensation benefits. The lawyer can also take liable third parties unwilling to offer you a reasonable settlement to the court. The lawyer will then litigate the matter and get you a favorable award.